---
Pastor Appreciation Sunday- October 30th, 2016
​We will have a special day to honor our Senior Pastors, Terry and Beth Bailey, on Sunday, October 30th in the morning service. We want to let them know how much we appreciate them and all of their hard work. If you would like to bless them financially, simply mark a tithing envelope "Pastor Appreciation" with your gift. You can also bless them online by clicking "Donate Now" at the bottom of this page with your gift.


---
Trunk or Treat
​
We will have our annual "Trunk or Treat" on Sunday Evening, October 30th from 6:00– 8:00 PM in the activities building. This is an important outreach to our community. We need at least 20 vehicles to participate in Trunk or Treat. We are taking monetary donations to purchase food for hot dog plates. There will be a sign-up sheet at The Welcome Center.


---
SALT Youth Fundraiser with Yankee Candles
​The SALT Youth have an exciting new fundraiser to help with their trip for Accelerant 2017. They will be selling Yankee Candles from Wednesday, 10/26/16 through Wednesday, 11/09/16. There will be several youth and adults who have catalogs and order forms for you to place your orders. You can also place online orders directly from Yankee Candle and we will get credit for it. Please Enter our Yankee account #990086415 when ordering online at www.yankeecandlefundraising.com under "Start Shopping". You can also click on the Yankee Candle image below.


After Clicking on the above Image to Open Yankee Candle Store
Enter our Yankee Account #990086415 when ordering under "Start Shopping"

---
Service Times
Sunday School- 9:30 AM
Sunday Worship Service- 10:30 AM
Wednesday Night Service- 7:00 PM
Girls Ministries/Royal Rangers/Teen Ministry- Wednesdays at 7:00 PM
---
Welcome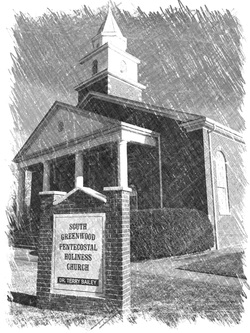 South Greenwood is the home church you are looking for if you want to be involved in sincere worship, dedicated service to God, and if you are seeking a deeper relationship with Him. Every member is a minister.

We will help you discover your gifts and will help you use them! Our overall purpose as a church is to reach the Greenwood region with the Good News of Jesus Christ!

We strive to be a vibrant community of faith where lost individuals commit themselves to Christ, become worshipers of God, grow in the teachings of the Bible, form deep friendships with one another, and offer ministry to others.

We welcome all who are seekers, those who are looking to establish a relationship with God and those who desire to take their relationship with Him to a higher level. No matter where you are in your walk with God, all are welcomed.
---
---
Bible Verse of the Day
---
Sign Up for a Weekly Devotional by Email
---
---
You can now send your tithes, offerings or special financial gifts by clicking the "Donate" button below. This is a secure transaction for credit and debit cards.
---